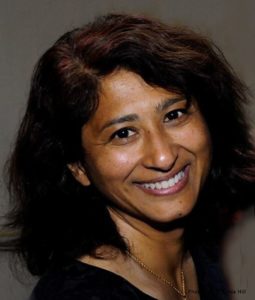 R J Samuel was born in Nigeria, to Indian parents. She spent many years qualifying to be a medical doctor first in Nigeria, then Ireland, but ran away from home to do a Masters in IT. She settled on IT as a career rather than Medicine as she thought computers might be more logical than people, but that hasn't always proven to be the case. She remained Ireland for many years, apart from a few years in the southwest of France where she ran a restaurant-bar despite having absolutely no interest in restaurants, except for eating in them. She considers herself almost Irish, almost Indian, and almost American. She now lives in Atlanta in America where, in her latest creative outburst, she wants to establish an artist retreat in a mostly unusable property.
She has five published novels: 'Heart Stopper,' 'Falling Colours-The Misadventures of a Vision Painter,' 'Casting Shadows-The Further Misadventures of a Vision Painter' (the Vision Painter series received an Honorable Mention in the 2013 Rainbow Awards) and 'A Place Somewhere' (finalist for both the GCLS Ann Bannon Popular Choice and the Tee Corinne Cover Design awards), and 'An Outsider Inside'. Her novels are set in the West of Ireland (in Galway and Connemara), in Kerala, India, in America, and in France.
Her story 'Helmets' was shortlisted for the 2011 Over the Edge 'New Writer of the Year Competition' and she was the only entrant to have both her fiction and her poetry long-listed for the Doire Press '1st Annual International Fiction and Poetry Chapbook Competition' in January 2012. Her fiction entry, 'The Vision Painter,' went on to be shortlisted for this competition and was the basis for her second novel, 'Falling Colours – The Misadventures of a Vision Painter.' Her short stories 'Parallel Lives' (2012) and 'The Alleyway' (2013) were shortlisted and her poetry entry was longlisted (2016) for the Over the Edge 'New Writer of the Year Competition' .